--How many years has this shop been in business?
We opened the shop in 1927. That means we've been in business for just over 90 years. I'm the second generation owner. My husband's mother, the original founder, worked at the "Ebiya" tsukudani shop in Shimbashi, and then went on to found Funato Shoten independently. I'm originally from Omori in Ota City, but I moved here after I married my husband in 1959, and began helping his mother in the shop. Our shop has always been right at this location, except for a short time when we moved due to the shop being burned down during the war.
Our shop's name, Funato, is a combination of funa, a common river fish in Japan, because tsukudani is often made with river fish, and to, which is derived from the founder's parent's name.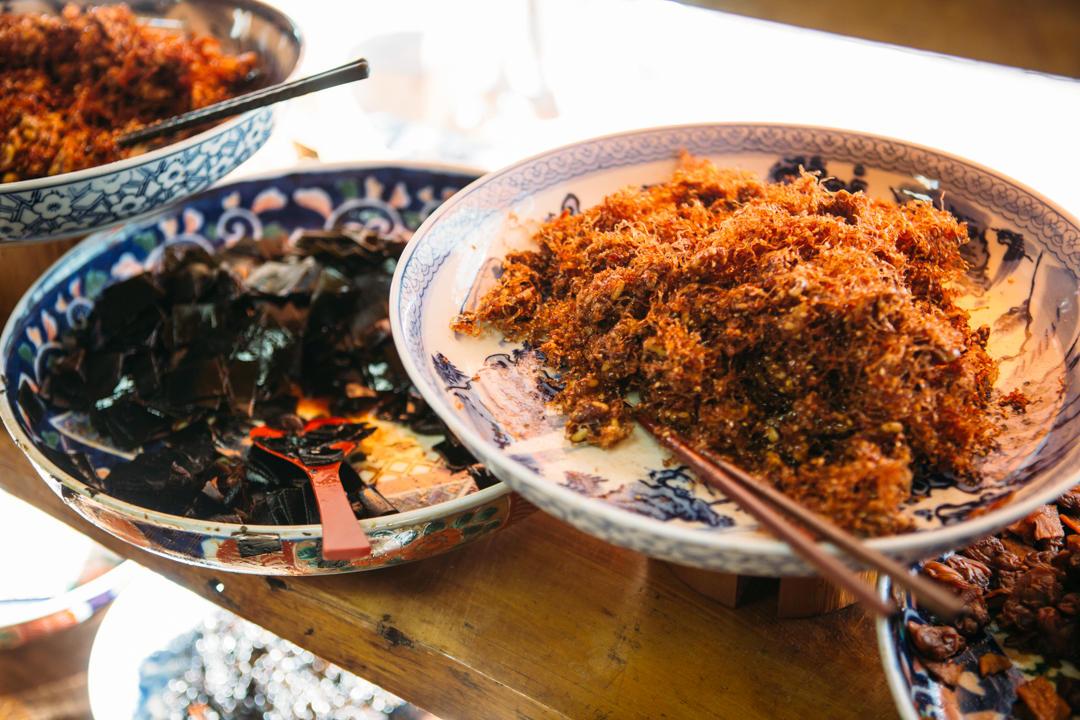 --How did you help in the shop?
I mainly served customers when my mother-in-law was still working. When I first started I had such a hard time calling "irashaimase" (welcome) to customers (laughs). That's something you get used to, though. Once my mother-in-law retired, I began making the tsukudani myself.
--Has the neighborhood changed much since that time?
Yes, it has. When I first moved here, there were so many ryokan inns. The place next to us, and the one next to that used to both be ryokans. This street was just a row of ryokans. Since we're close the station, we also had many students coming on school trips. All the small houses we used to have here are now buildings today. They are mostly full of companies, making the area quite empty at night, and many people who used to live here have since left.
--Having lived and done business through so many different ages while watching this neighborhood change, was there ever a time, outside of the war, when you were in danger of closing the shop?
We've always run this shop frugally, so thankfully that's never been a concern. We had invitations to open a shop in department stores previously, but stretching ourselves too thin would have led to failure. I'm now over 80 years old, so you never know what may happen; that makes me feel like I have to start talking to my daughter and son about the future.
--What kind of customers do you typically see?
Well, we don't see many customers who live in the area these days. I would say that we must get many working people. We also have young people who come to our shop saying, "my mother used to always shop here, and now she's asked me to come here."
Recently, we also have many overseas visitors, who pop in to take a look around the shop. While we can't use words to communicate with each other, if I know what they want, I show them a slip of paper noting how much 100 grams costs.
--It's really picturesque to see you working here this way.
I really feel relaxed here. If I don't go anywhere when shop is closed, and just shut the door and watch some television, I soon think, "this is really kind of dull." It's very interesting to watch people go by in front of the shop. You can tell what's in fashion this year, and so on. People from the neighborhood also come by and chat with me, and we sometimes share gifts and leftovers with each other. It creates a very warm, neighborly feeling. That's why I like living here, and don't want to move. It may be small be a small shop, but I love it (laughs).