--To begin, wasn't "the taste of ancient miso, today" written next to your store's sign?
Nowadays, most miso is made through "accelerated fermentation", in which the temperature is constantly increased and decreased to hasten the process of maturation. At Gunji Miso, however, we use "natural fermentation", in which the miso matures based on the temperature differences in each of Japan's four seasons. If you try our miso, you will find that the flavor is completely different. Our most popular miso is one made with unmilled, brown rice. We use unmilled Koshihikari rice in the koji rice mold, and allow the miso to slowly mature, creating a truly mellow flavor. It also has a deep, savory taste, making it match perfectly with all kinds of ingredients. It's even delicious to eat raw. Most people who try our unmilled rice miso become repeat customers, and many have been using the miso for years now.
--Can you tell us about the origins of Gunji Miso?
The elder Haruo Gunji, the chairman of our company, is 98 years old today. He was a soldier during the war, and was afterwards held prisoner by the former USSR. He was forced into extremely harsh labor without any food, and he was always starving. During the rest periods, he and the other laborers would talk about the foods they loved, and people from all over would talk about their favorite foods from their hometowns. They would boast about their regions and what was delicious, and how they really wanted to have some miso soup if they survived to make it home. Unfortunately it seems that everyone passed away. That experience was burned into Mr. Haruo's memory, and he resolved himself to start a miso shop if he survived to return to Japan. He just barely made it home alive, but in 1957, he started the Gunji Miso shop. At that time, a very crude miso made with mixed sweet potato paste was being sold, but Mr. Haruo devoted himself to making authentic miso. He says the people at the time were thrilled to be able to taste a familiar, delicious miso again.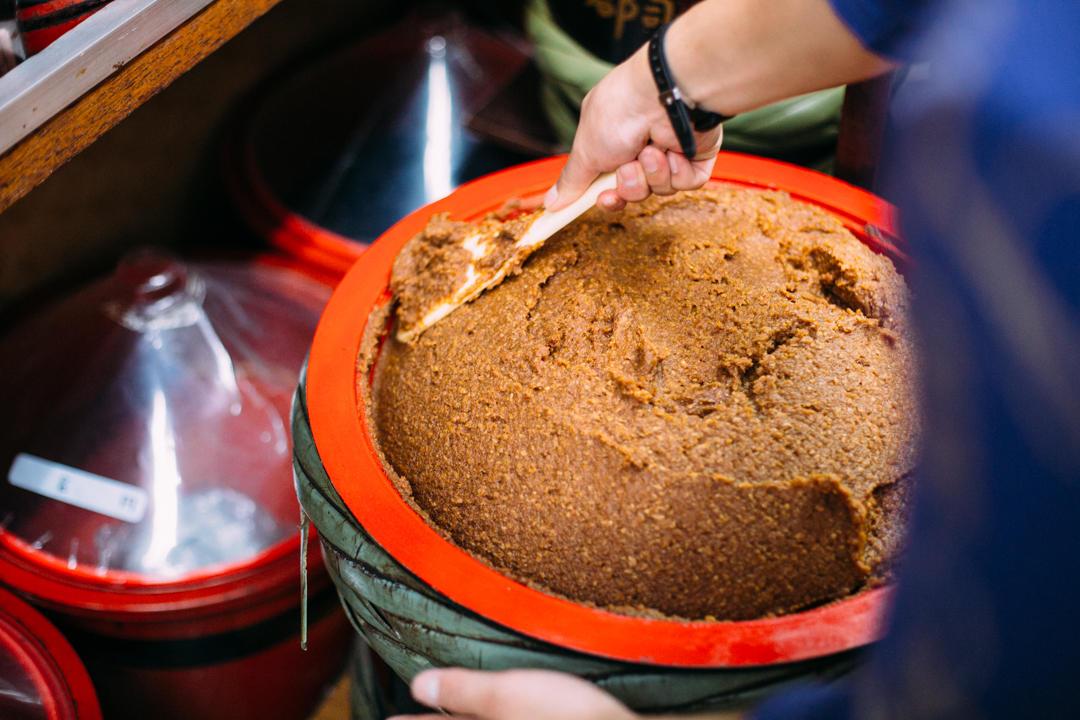 --You offer a wide variety of pickles. Was that also started by Mr. Haruo, the founder?
Yes, that's right. Logistics were not as well developed then as they are today, and we gathered famous products from all over based on the fact that if the miso is good, then the pickles must be good as well. You'll see "Aji no hikyaku"(the courier of taste) written on our front sign. Mr. Haruo says that he used the word hikyaku, or courier, before it was made famous by Sagawa Express.
--So what brought you here, Mr. Natsukawa?
I originally planned to become a teacher, but I was invited to join Gunji Miso by the second generation president when I was working at my part time job during university. Partly based on my dream to become a teacher, today I want to share just how wonderful miso is with children. Miso might be something that's very familiar because it's served on all sorts of occasions, but it might also be growing unfamiliar little by little to young people these days. I think miso is the pinnacle of fermented foods, though, and also based on the dreams of Mr. Haruo Gunji, it's a fire I don't want to see extinguished. Furthermore, many of the miso craftspeople we know are aging and unable to pass down their techniques, which causes their history to be lost. We want to carry on this culture by selling and telling the world about miso.