--What prompted you to begin working with fragrances?
(Tomoko Saito, head of TOMOKO SAITO aromatique) My father was born in Kyoto, so we would visit every summer. I remember, when the door to my grandparents' house opened, there was always the scent of burning incense. Perhaps it is just an old memory from my early childhood, but as long as I can remember I have always been drawn to things associated with fragrance.
My interest in fragrances was sparked again when I became an adult. I had the chance to smell bergamot oranges, a discovery which suddenly changed my entire mood. I was filled with such surprise and thought, "Things like this exist!?" I also discovered when I put things infused with lavender on my skin when I was sick, my symptoms were alleviated. I became captivated by the natural remedial aspect of fragrances, their psychological effects, and above all else the many charms of the fragrances themselves.
So I began self-studying fragrances. I've held classes on fragrance before, but now I engage in professional training and my client work includes producing fragrances for them, as well as assisting in spatial management and control. Through these activities I hope to further advance the position and expand the possibilities of Japanese fragrances.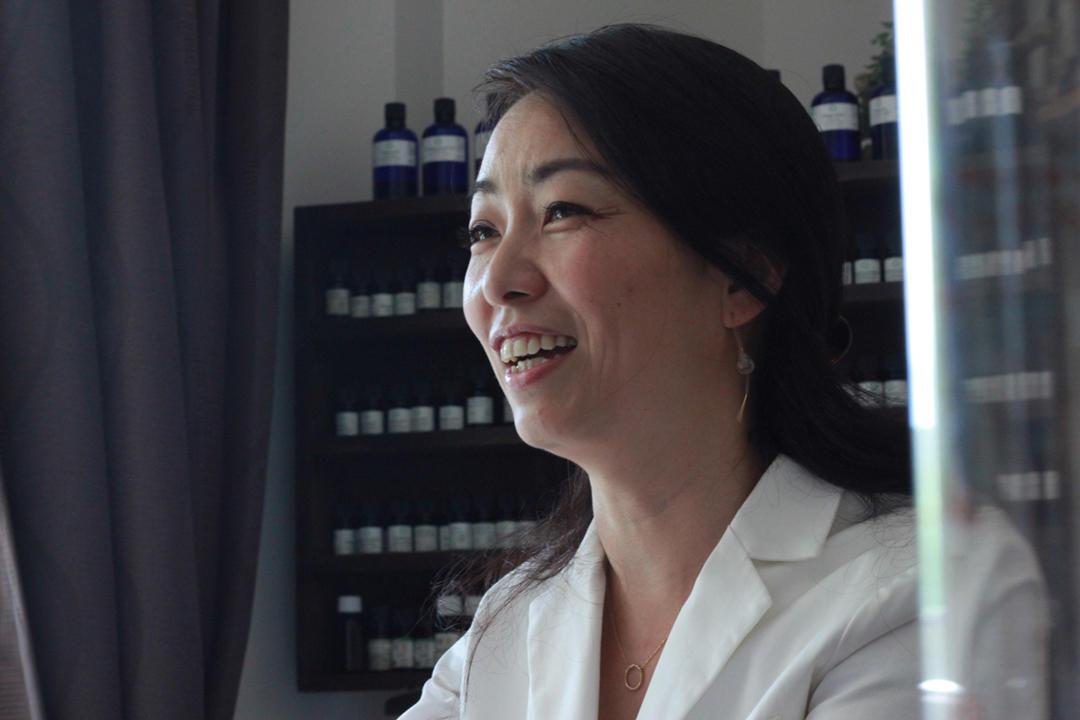 I held a fragrance presentation on the 10th anniversary of my work and arranged for there to be a "toast" with wine glasses from Kimura Glass containing mouillettes (fragrance test strips). As a result of this event, I became close with the president of Kimura Glass and began spending more time in Ueno and Taito Ward, and then was introduced to the NOHGA HOTEL.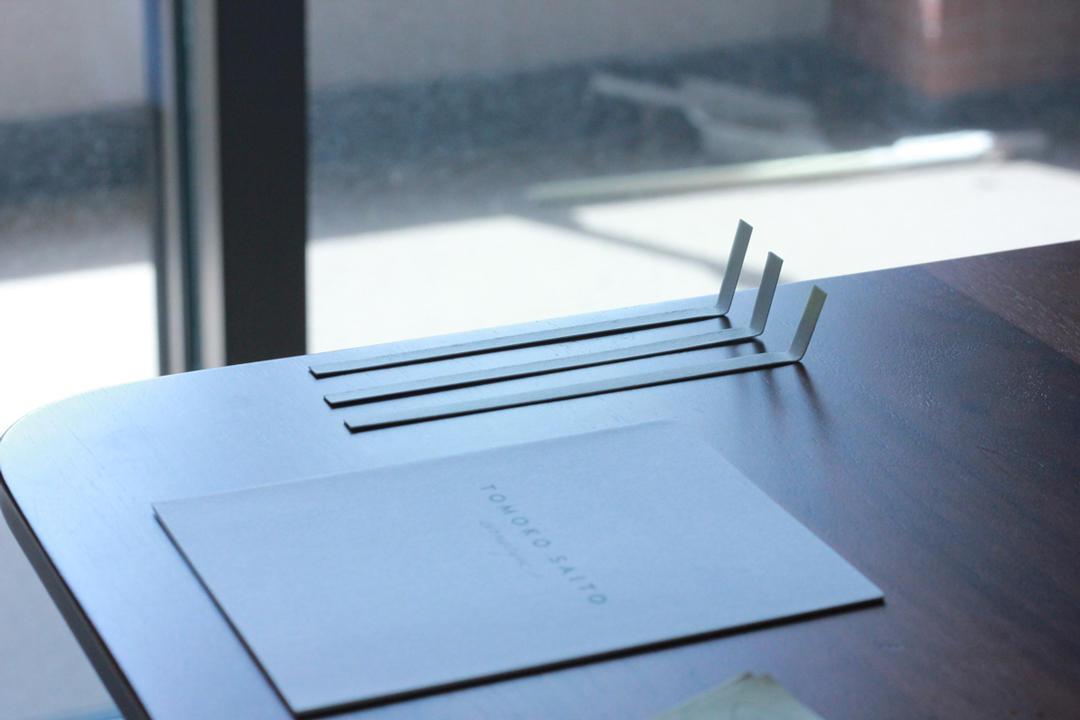 --What was your impression of the neighborhood of Ueno?
Ueno has many diverse faces, from the fireworks over Sumida River to its local festivals, such as the Sansha Festival. You can find a strong culture of craftsmanship, many locals riding bicycles, and quiet residential areas. At first, around the station I found there were throngs of people, but everything became more calm as I walked toward Shinobazu Pond. There are quiet areas where local people live, riding around on their bicycles. There are many sides to Ueno.
--It's true, your impression of the neighborhood changes based on how you narrow it down to its parts.
Exactly, I created the fragrances for NOHGA HOTEL considering how it would be enjoyed by visitors returning from a day out, exploring the diverse faces of Ueno.
When I was first offered this opportunity and was choosing a keyword to represent the fragrances in this place, I realized that it would be wrong of me to whittle it down to a single word like "refined." Although there was a careful selection process for the hotel's spaces and its furniture, it has an open and free atmosphere. It blends in with the neighborhood, yet also is not of the everday; it makes you feel exhilarated when you go there. I think this balance is truly wonderful. I wanted to express its profound diversity yet also its mild characteristics, so I combined several citrus notes with woody notes such as hinoki cypress, camphor, and black spruce.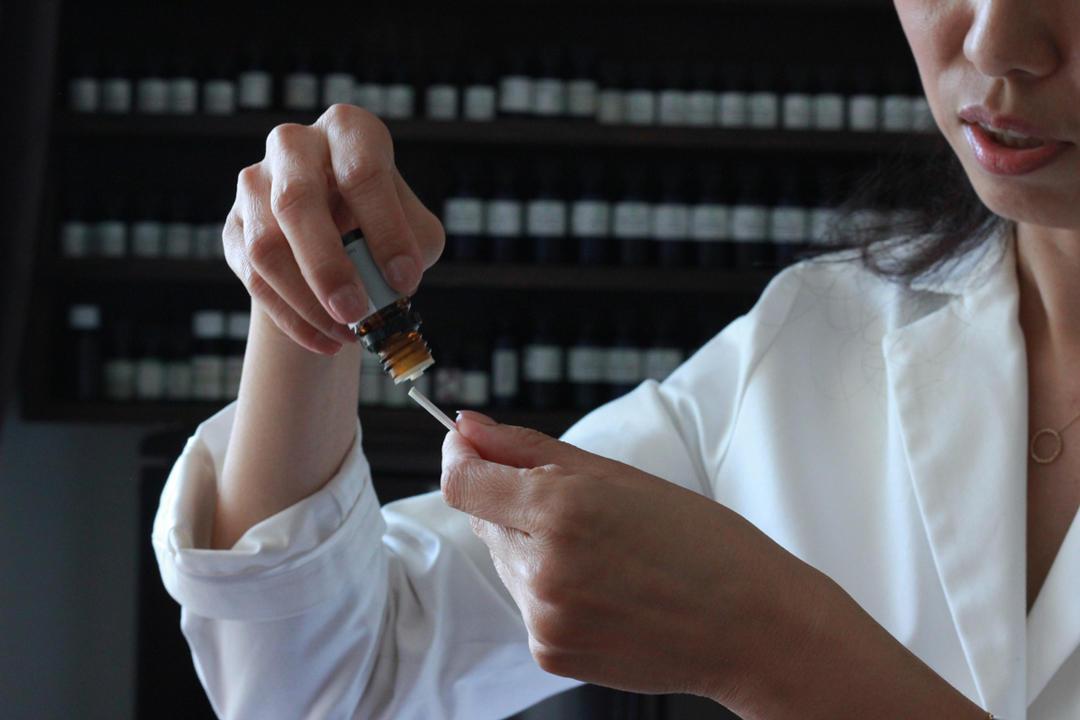 --How do you go about creating fragrances specifically inspired by places and spaces?
As part of my original collection, I have a fragrance line inspired by cities including Kyoto, Tokyo, Paris, and the latest addition, Milan. I created the "Kyoto" fragrance for example, as a harmony of sandalwood and hinoki cypress. It is based on the image of the city at twilight, after early summer rain. I imagined a scene of stone pavements and wooden fences, gradually becoming illuminated by the light, feeling the summer humidity in the air.
My inspiration for fragrances come together like this, they are based on my own memories of the seasons and the experience of actually visiting those places. I come up with specific keywords to illustrate these scenes, and then based on those keywords I select ingredients and fragrance notes. Fragrances strongly intertwine with one's memories and impressions, so I create them while imagining the situation and time frame in which the scent would be worn.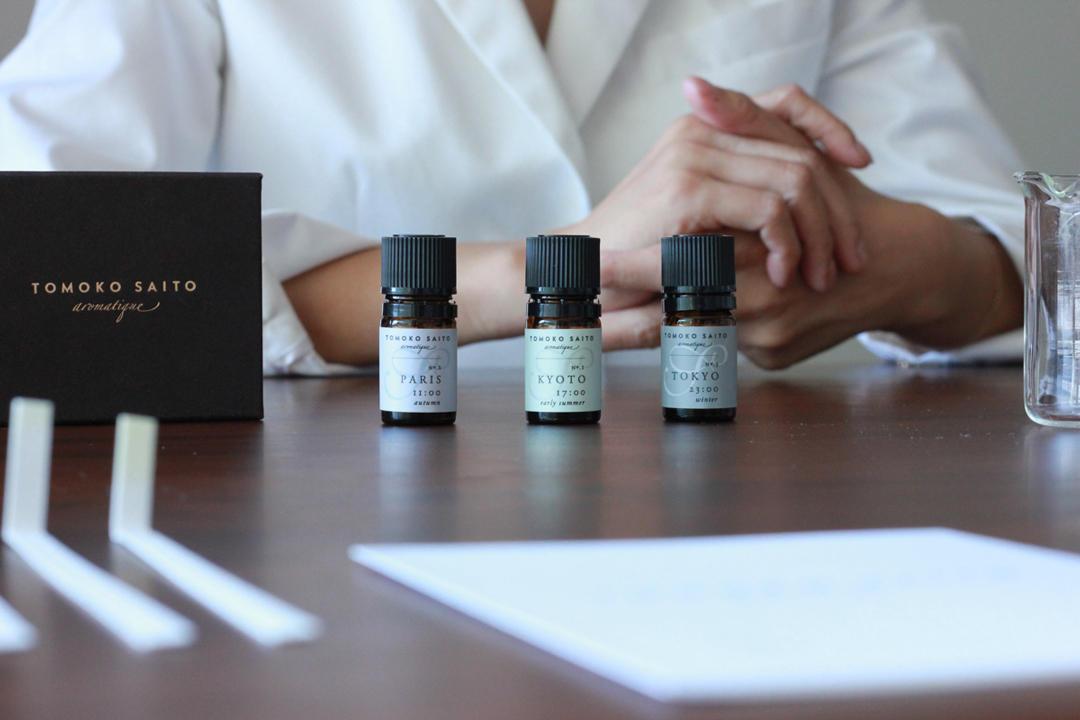 --Fragrances has a stronger influence on people than we imagine.
Yes. When we are in certain places, our impression of the place and our experience might change entirely based on what we smell. Fragrances can be described as the crossroad of our memories.
I think it is important for the maker to think about what to choose to combine, as well as think about how the final product would be used and understood by its user. Even if I only select one essential oil, I think long and hard about its meaning.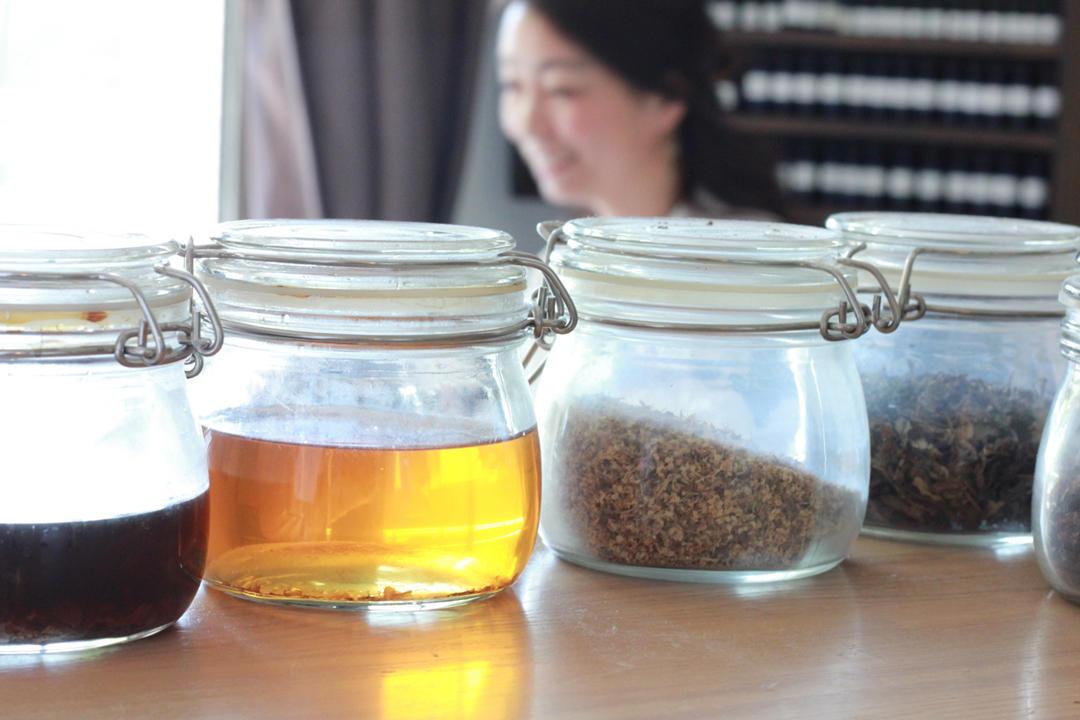 --Lastly, has your impression of Ueno now changed from before?
It's not just about Ueno Park and its art galleries, but I came to realize that there are shops in Ueno that are small but have strong conviction and philosophies, and have existed for many, many generations. I also learned that there are artisans who treat their craft with such careful devotion and are also deeply involved in many local activities, and this made me want to go to Ueno more. I believe I would never have found this had I not gotten involved in NOHGA HOTEL. I hope to be able to learn more about these kinds of places, increase my involvement in this area, and have more exchanges with the local people.